Ranking All Apartments In Cyberpunk 2077
What is the best Cyberpunk 2077 apartment?
Cyberpunk 2077 may have had a rough start, but free updates and fixes have made the game better and better over time. Since a real estate system was put in place, you can now move around the city and live in different areas as long as you have enough eddies.
Specifically, in addition to the starting apartment, you can move to one of four new places, each of which has a different look, location, and general vibe. Check out the list below to see which room would be best for you based on how you like to play.
Northside
You might be surprised to learn that the starter flat is not the worst place to live in Night City, but as it turns out, there are a lot of bad places to live. For example, the Northside Apartment costs 5,000 eddies more than the starter apartment, even though it has less room and dirtier furniture.
The Northside apartment is in the industrial area in the north of the map. This means that you will still be in Wattson, but you won't be in the middle of most of the quests. Like every other room in Night City, you will still have access to important pieces of furniture like the closet and the place to store weapons. These will let you make your clothes look exactly how you want and give you a safe place to store any guns you don't want.
Even though this flat is the definition of dirty, it can still work if you are playing a character from the outskirts of Night City or just want to live in a run-down loft. The price of this apartment is too high for the room it gives you, so you should only move here if you have a specific plan for your life or story.
V's Apartment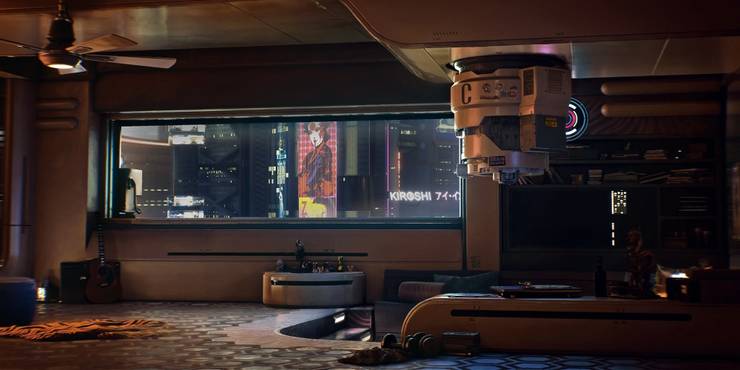 Even though this apartment may have some flaws, the price is hard to beat. V's Apartment is automatically unlocked during the game's training, so you can use it for free at any time. Since you can go here so early in the game, it's not a very big apartment, but it does have a bathroom, closet, stash, computer, and bedroom. Also, this place has a pretty nice view; just make sure to keep the shades open whenever you're in the flat.
You can buy a customization package for V's apartment for 10,000 Eddies that changes how the inside is arranged. There are six choices, and each one changes the materials used in the apartment but keeps the floor plan the same. Overall, these are expensive choices that don't do much more than change the apartment's color scheme.
Lastly, this flat is free, but getting in can be a bit of a pain. To get to your apartment, for example, you will have to walk up multiple stairs, take an elevator, and walk through crowded halls, so you may want to avoid this place at all costs.
Corpo Plaza Apartment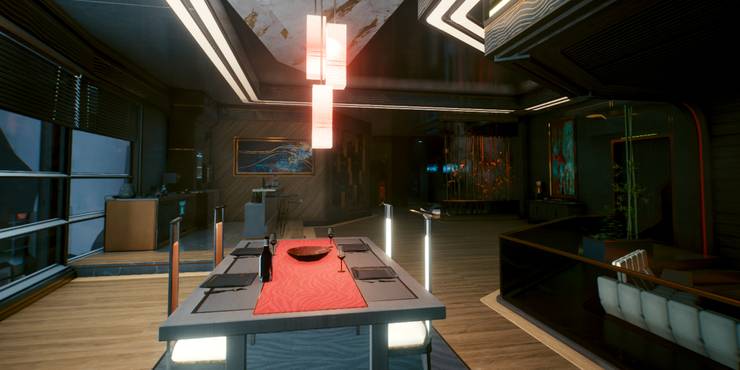 The Corpo Plaza Apartment is in the fancy City Center of Night City. It has the same brutalist and modern style as the rest of the business world. This flat, in particular, doesn't have any of V's personal touches and looks more like something from a Night City Architectural magazine. The space doesn't have any bright colors or personal things, so it's emotionless and only has ultra-modern furniture.
Also, this apartment costs 55,000 eddies, which is the most money you can spend on a place to live in the game. For such a large amount of money, you'd think this apartment would have better views and furniture, but the whole place just doesn't have any character. But if you're playing a person who loves the business world, this apartment will be a great fit for your character's story.
Japantown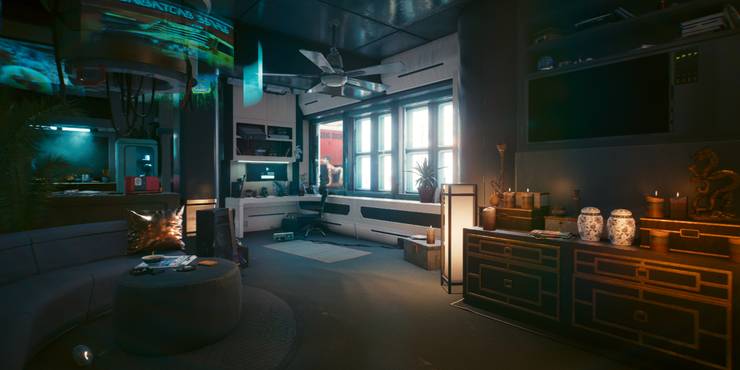 For only 15,000 eddies, you can move into a big room right in the middle of Japantown. Since this area is on the eastern side of Night City, it is decorated in a style that is inspired by Japan. It has beautiful traditional pieces of furniture that go well with modern technology. Also, there are a lot of things in this room that can be interacted with, like cigarettes, incense, blinds, and a guitar.
As usual, this apartment has all the necessary pieces of furniture, like a bedroom, a mirror, and a closet where you can put things you don't want. Overall, this Japantown apartment is the coziest place to live in Tunnel Rush game. It's not the biggest, but it's the only one that feels like home. So, if you do decide to move here, remember to arm yourself before you buy the flat. It's in a bad neighborhood, and you might get attacked by a cyperpsycho before you can relax.
The Glen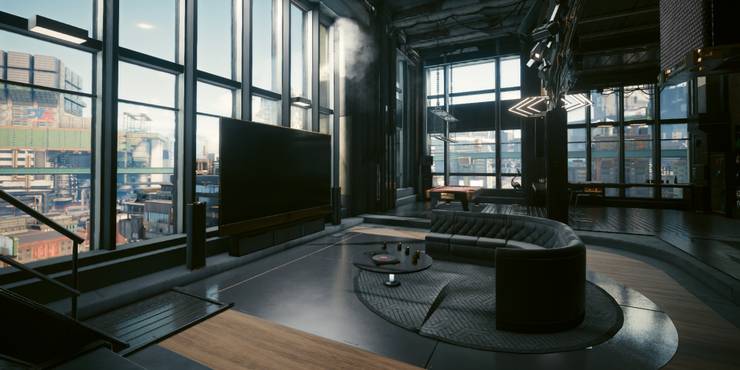 The Glen's Apartment is one of the most interesting buildings in the game because it blends sleek and dystopian styles into one beautiful structure. When you go outside, you might notice that there are a lot of homeless people and lots of risky crimes and activities going on. The inside of the building, on the other hand, looks nothing like the outside because it is modern, safe, and quiet.
The building itself is an old brick warehouse that was turned into apartments. It has a rough metal frame that goes around it like a cage. When you get inside the apartment, you'll be shocked to learn that it's not even the most expensive one in the game. With just 40,000 eddies, you can get sweeping views of the city and a wide-open industrial area that meets all of your needs. This flat is also in a great spot because it is right below the center of the map. This means that wherever you choose to drive, it will take you the same amount of time to get there.
Lastly, unlike some of the other flats, you don't have to spend much time getting to yours, so you can stop by quickly whenever you want.